The Internet is going mobile. More people use mobile devices to look at your website than desktop or laptop PCs. This trend is reflected in how people are using Google's search engine. Most searches are now coming from smart phones and tablets.
Can You See Me?
When someone views your website it seems obvious that they should be able to see and read your content no matter what device they are using. But browsing the Internet on a desktop PC with its large screen area is very different to using a mobile phone. If your website isn't mobile-friendly it simply won't fit on the smaller screen. Mobile devices will try their best to display your webpage but they'll either have to make it smaller or chop bits off. Either way it makes your website much harder to use.
If you've got Google's Search Console (formerly Webmaster tools) installed on your website you can see what Google thinks your page looks like for mobile users. If you haven't got Search Console installed talk to your website developer.
Inside Search Console, under the crawl menu, you'll find the "Fetch as Google" option. Select the "Mobile: Smart phone" option and then click the "fetch and render" button.

The process will take a minute or so to complete. Once it's ready just click the result line and you'll see a screen like this.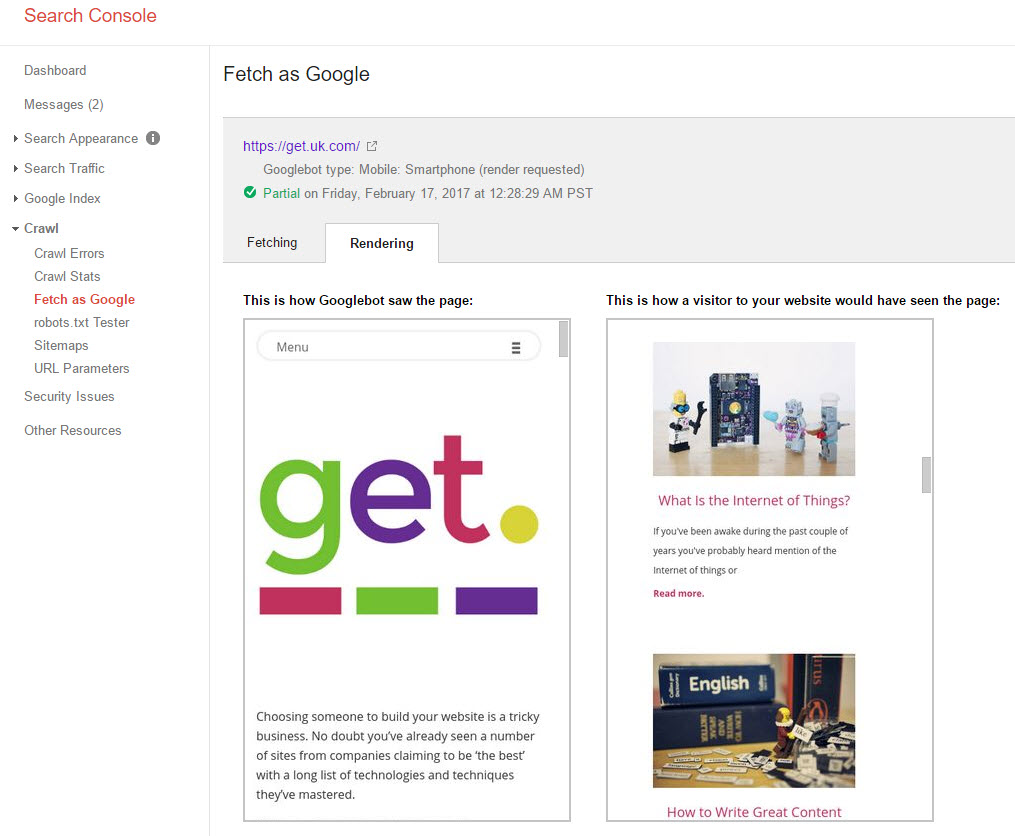 This shows you exactly what Google thinks mobile users will see.
Mobile First Is about to Land
What Google's mobile crawler sees is about to become very important.
Up until now Google has been using its desktop crawler to index your pages. In other words what it sees as a normal PC has been used to index and rank your website. But it's finally coming on line with how people are actually using the web. It's going to switch to its mobile crawler and use that information to index and rank your website.
This "mobile first" approach is currently in the test phase but is starting to roll out into the main Google search system.
How Mobile Friendly Is Your Website?
Head over to Google's Mobile Friendly Test website.
If you run a test on your webpage it will give you another indicator of what Google thinks about you.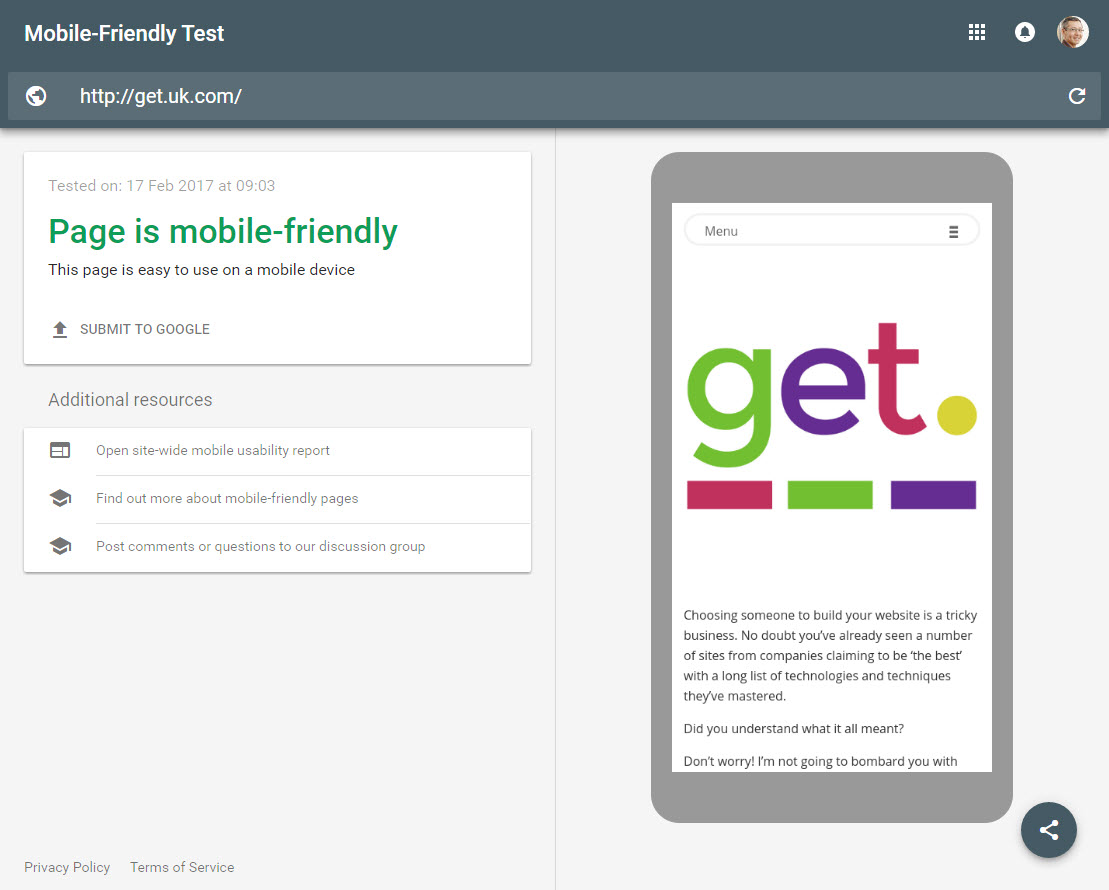 What Makes a Site Mobile Friendly?
There are a number of factors in making a website mobile-friendly. But the two most important features you must include are
Displaying correctly on a smaller screen
Loading quickly
To get your website displaying correctly your best option is to look at responsive website design. This is where your webpage adjusts itself depending on what size screen your visitors using. You can try this out on my webpage. Simply drag the right hand edge of this window to make it narrower or wider. You'll see the page content changes to make sure that everything fits on the screen.
To make your website faster you need to think about what you put on the page. Large images, animations, et cetera all need to be downloaded which can cause delays especially when someone is on a weak mobile signal. You also need to make sure that your website hosting is performing well to make sure that your files are being transferred over the Internet as fast as possible.
Talk to Your Web Developer Now
Google's mobile first index is coming, NOW. By the middle of this year (it is 2017) expect it to be fully in place and all your searches will use the mobile index.
If your website isn't mobile friendly you need to get it sorted as soon as possible.